Surface mining needs efficient and compact rock drills
Aboveground excavation means also demanding environments. The performance of a rock drill is subject to varying conditions and variations in temperature and humidity. We promise consistent and accurate results with our products.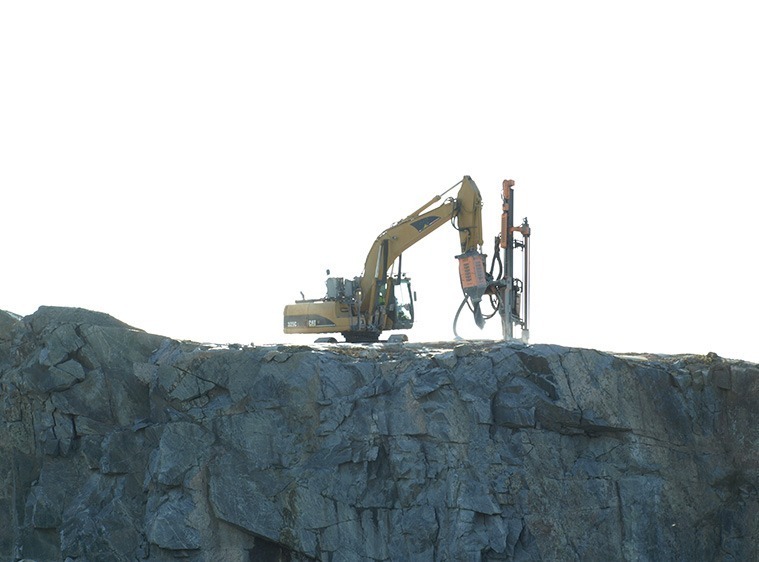 DIMENSIONAL DRILLING
The object of rock extraction and cutting at a quarry goal is to extract large, intact stone blocks for production. Hydraulic rock drills are used to cut – commonly called line drills – larger stone blocks into desired block sizes to manage fluent shipping.
The drill must accomplish good penetration speed, straight holes, and easy serviceability in line-drilling rock. Many hours are put into rock drills daily in fields of field conditions, heat, cold, dirt and dust, and rock drills must bear these elements. With many years of expertise in this terra Doofor model, DF530X is valued highest in its class by users worldwide. Compact, energy-efficient, easily serviced and performance built in one model that takes many years to deliver.
PILOT-HOLE DRILLING
When a deep section needs to be cut, pilot holes for the wire saw must most often be drilled with a top hammer.
A sound and straight pilot hole is a must when using a diamond wire saw in a dimensional stone quarry. The horizontal pilot holes are 20 to 40 meters deep, so hole deviation is minimal. The vertical holes are 5 to 10 meters deep. Doofor offers a good product; for example, DF540L-BLT performs with high frequency and has a flushing collar designed to bear solid radial forces. 
QUARRYING / OPEN BIT MINING
Production drilling (Bench drilling) on the surface mine is very much the same as in the underground mine; in other words, it is drilling the blast holes to extract the minerals from the mine. The difference is the direction and flushing. While underground, the drilling is typically upwards; on the surface, it is downwards. Flushing is done with air compared to water underground. Blast holes have extensive diameter drilling (typically between 51 to 152 mm) and are long (typically between 5 to 20 m). 
Like underground, the blast hole straightness is the essential factor for cost-efficient production in mining. While the production drilling is typically extended hole drilling, it requires strong and stable torque with higher single impact force from percussion. Above helps to manage the hole deviation and secure straight holes for trouble-free drill rod retraction. Naturally, the reliability of the rock drill is essential in production drilling.
HYDRAULIC ROCK DRILLS FOR SURFACE MINING: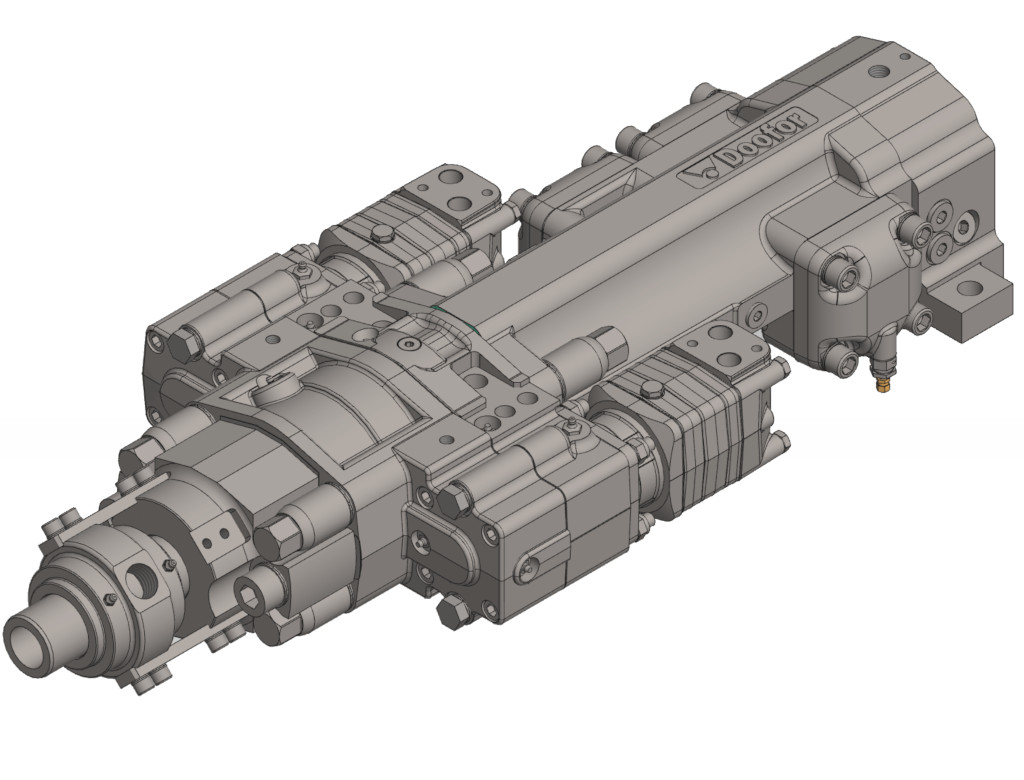 Hole diameter 89 mm Power class 20 kW