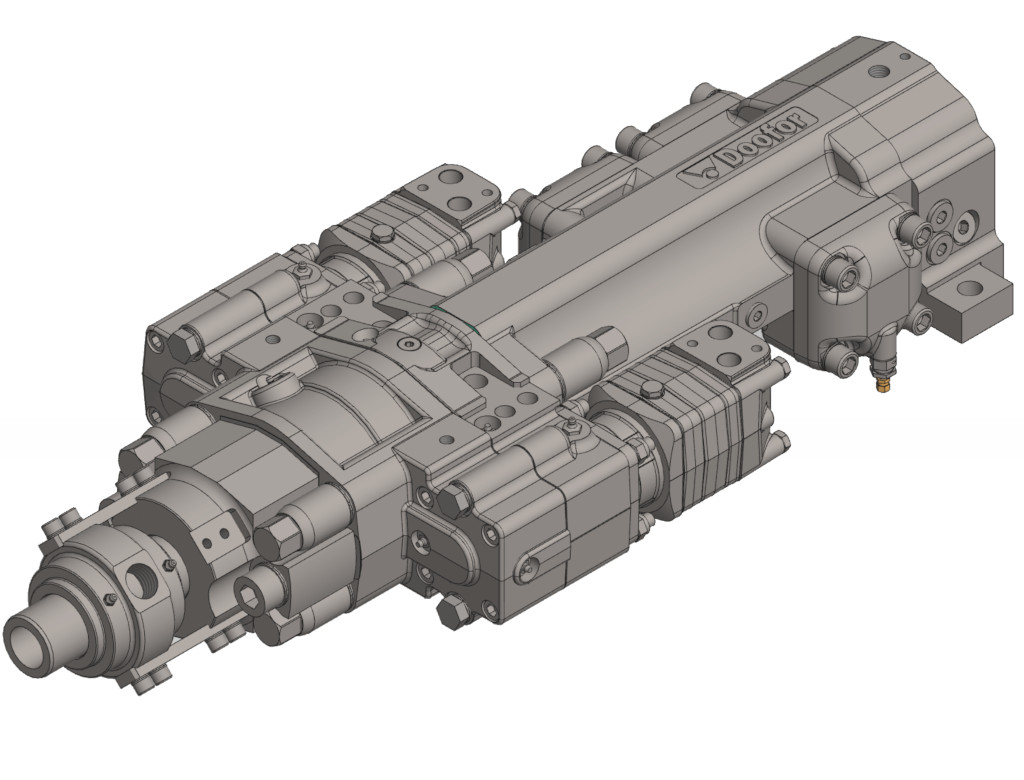 DF560L-BLTF-2M
Doofor DF560L-BLTF-2M is a hydraulic rock drill equipped with two rotation motors, completely separated flushing box and hermetic rotation mechanism for demanding underground conditions. Two rotation motors enable continuous, high torque while maintaining high rotation speed. The stainless steel BLTF-flushing head can be turned in 90 degree steps. Motor fitting direction can be specified (up, down or side).
Doofor DF560L-BLTF-2M is a high-frequency hydraulic rock drill specially designed for grouting, ground stabilization and general excavations. The drifter has a very low overhead, only 84 mm from the drill center line.
The rock drill has a completely separated, non-corrosive flushing box. Flushing media can be water, air or grout (limitations apply). The rock drill can be equipped with female shank adapters (striker bars) R32, R38, T38, and Titan T40F.
Optimal maximum hole diameter for the DF560L-BLTF-2M is 89 mm.
OPTIMAL MAXIMUM HOLE DIAMETER
| | |
| --- | --- |
| Nominal power class | 20 kW |
| Percussion pressure | 150 bar |
| (Percussion oil-flow) | (110-130 litres/min) |
| Rotation motor* | 2*160 cm3 |
| Speed max. | 250 rpm |
| Torque* | 1900 Nm |
| Oil flow* | 2*40 litres/min (max 2*90 litres/min) |
| Gear ratio | 65/40 |
| Lubrication | Air-oil mist, min. 250 g/h |
| Flushing air pressure. | 5-7 bar max. |
| Flushing air flow | 4000 litres/min |
| Flushing water flow | 150 litres/min |
| Weight | 203 kg |
*) Motor options are 80 cm³, 125 cm³ and 160 cm³. Number given is for standard rotation motors (2*160 cm³) at an intermittent pressure of 275 bar [3989psi].
**) Number given is for standard rotation motors (2*160 cm³) at an operating pressure of 175 bar [2466psi].
The product is for professional use only, as a component of a hydraulic system.
Feed force (pressure) must be adjustable during operation. Rotation torque and oil flow values given are for a typical rotation motor. See full brochure for detailed information on different rotation motors. Percussion pressure mentioned is a recommended value for a typical application. The product is intended for professional use by skilled personnel. Doofor reserves all rights for changes without prior notice.