The 29th June is WIDD (World Industrial Design Day), how much do you know about it?
WIDD is observed annually on 29th June to celebrate and recognize the power of design in strengthening social, economic, cultural, and environmental development around the world. The event is held by the WDO (World Design Organization) to raise professional awareness and encourage members and non-members of the International Association of Industrial Design to organize a series of industrial design exhibitions, seminars, workshops and other relevant promotional activities.
The theme for this year's WIDD was "Diversity" and a 24-hour virtual event was held to encourage interaction between industrial design professionals from all over the globe to share their exciting new ideas and expertise.
The fit between Northern Europe and Finland's industrial capital
As one of the leading figures in Nordic drilling technology, Finland's Doofor Inc. is keeping with the purpose of this anniversary. Headquartered in the industrial city of Nokia, Doofor has been maintaining its longstanding history as a rock drill design specialist now for over 25 years. Dedicated to the design, manufacture, and operational excellence of hydraulic rock drills, Doofor is proud to offer its extensive product range to its customers.
As a trusted rock drill provider, Doofor is known worldwide for its highly advanced rock drill technology. Every aspect of the product is designed with strong Nordic mining and blasting traditions in mind. High product quality is achieved with the help of a comprehensive, local supplier network in the Tampere region. Tampere is considered by many as the "industrial capital" of Finland.
The unique geographical advantage and deep industrial knowledge has raised the quality of Doofor rock drills to a height that was unseen before in an SME enterprise. Doofor rock drills are currently active in over 40 countries and this number continues to grow. The company is seeing greater levels of economic growth with each financial year-, and is becoming more and more the synonymous with the term of 'supplier of choice' for many businesses worldwide.
Doofor started its production of rock drilling equipment in 1993 and has since offered countless solutions to OEM businesses, dealerships, and end-users who deal with heavy-duty machinery, such as: drill rigs, jumbos, excavators, dimensional stone drill rigs, TBM probe drilling systems, limited access drills, geotechnical drill rigs, and many more. This type of equipment is purposed for tunneling projects, quarries, construction sites and other underground and surface applications.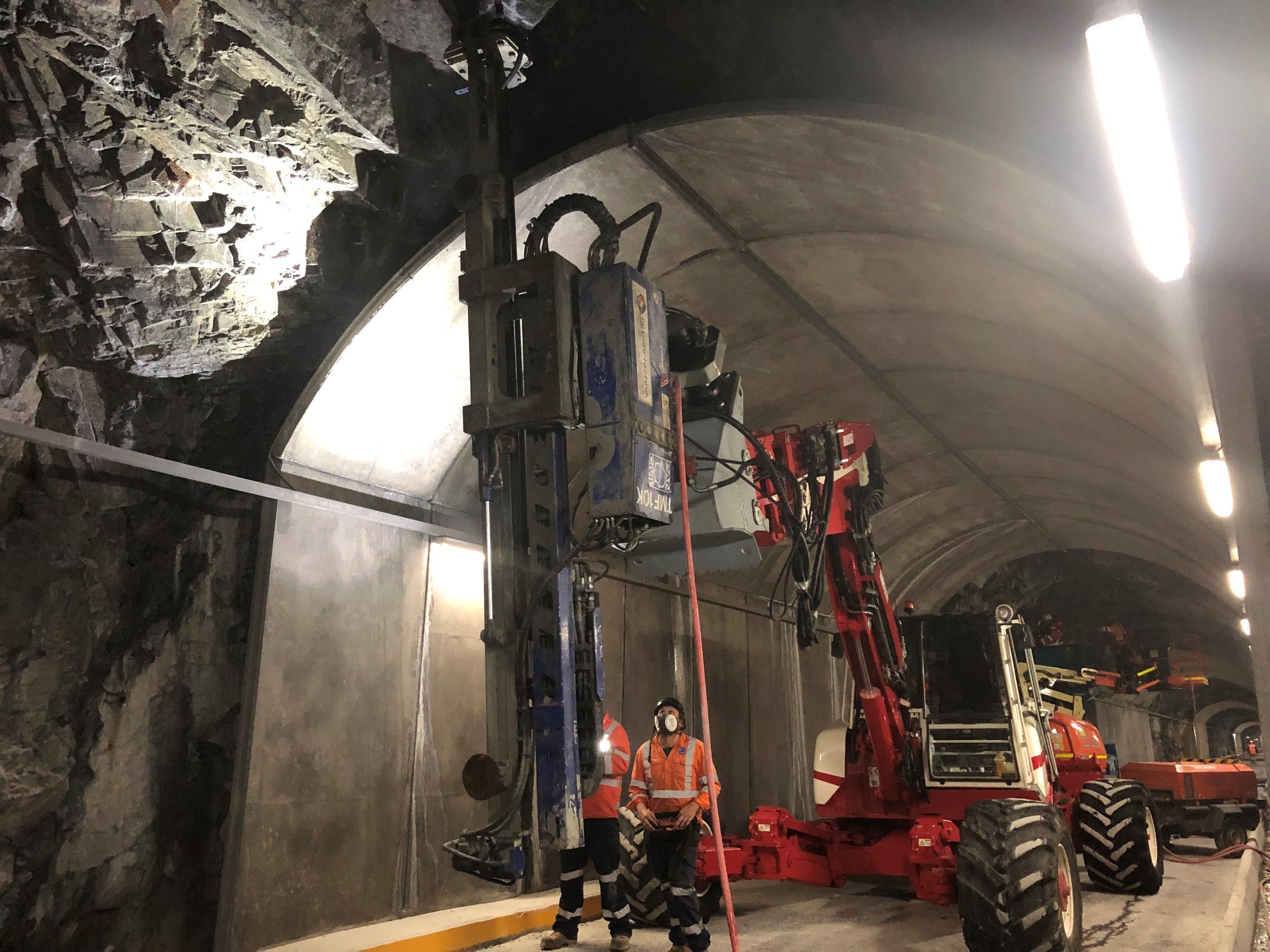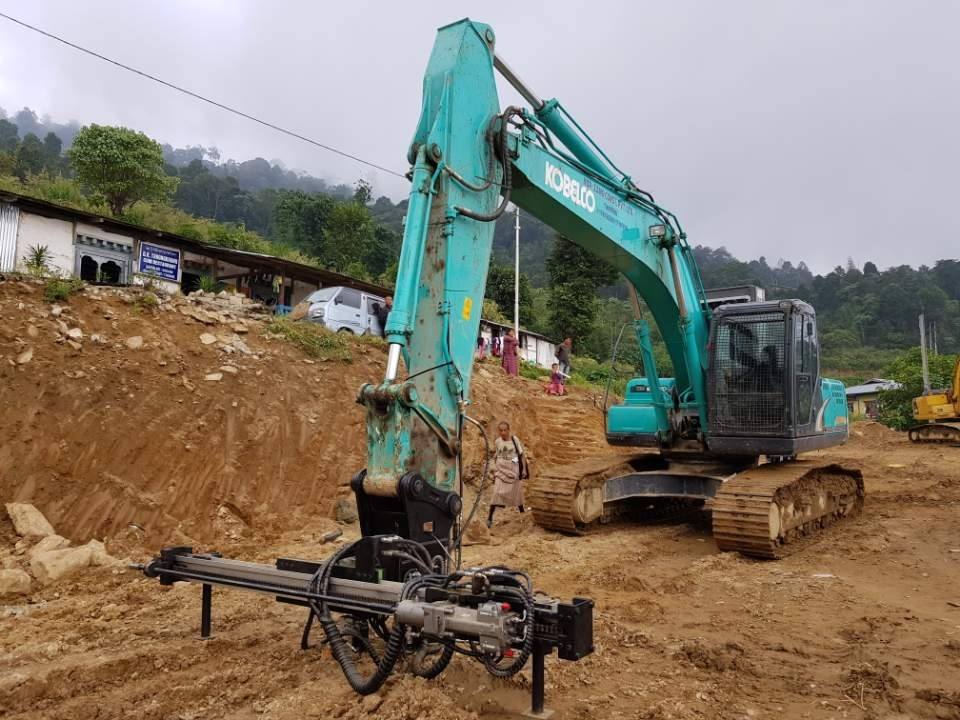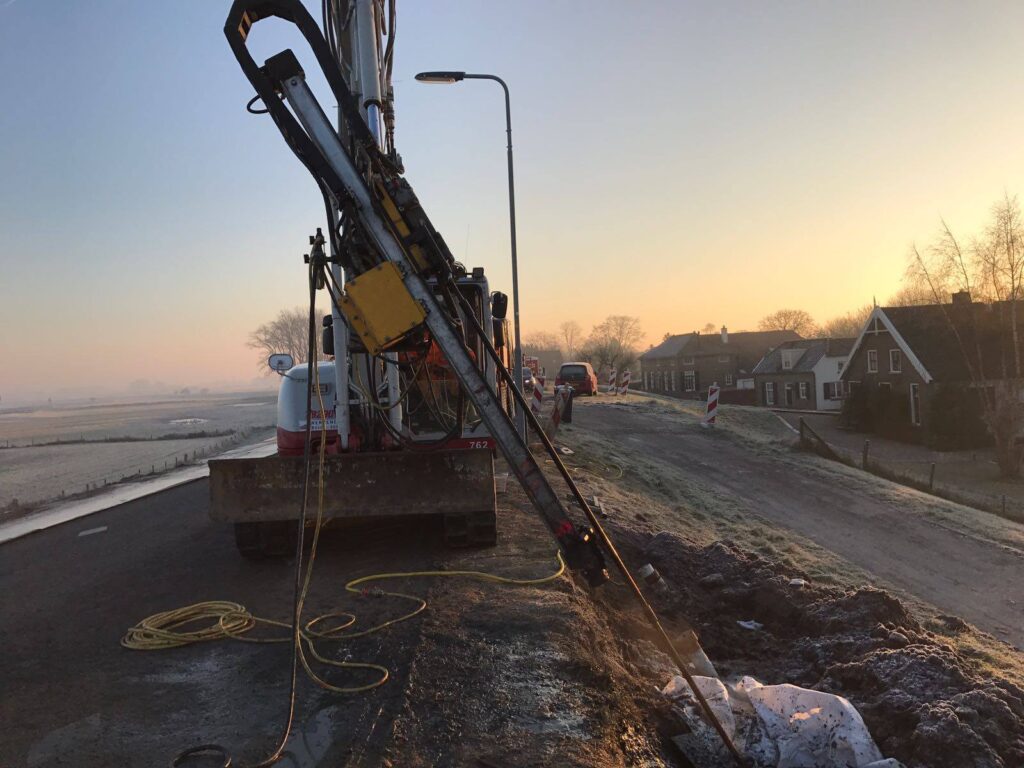 Originality of rock drill design
As an innovative enterprise, Doofor attaches great importance to technology development and originality. The insistence on original design coupled with years of attentiveness to customer needs & wants, has formed the backbone of the Doofor brand. Rock drills made by Doofor use patented technologies which enhance performance i.e., with high-frequency percussion, efficient energy distribution, fast flow accumulators and many others. Whether Doofor is building its main product, or relevant complementary products, such as: feed system kits, carriage plates and retainer kits-, they are always assembled with great care and to the highest standard.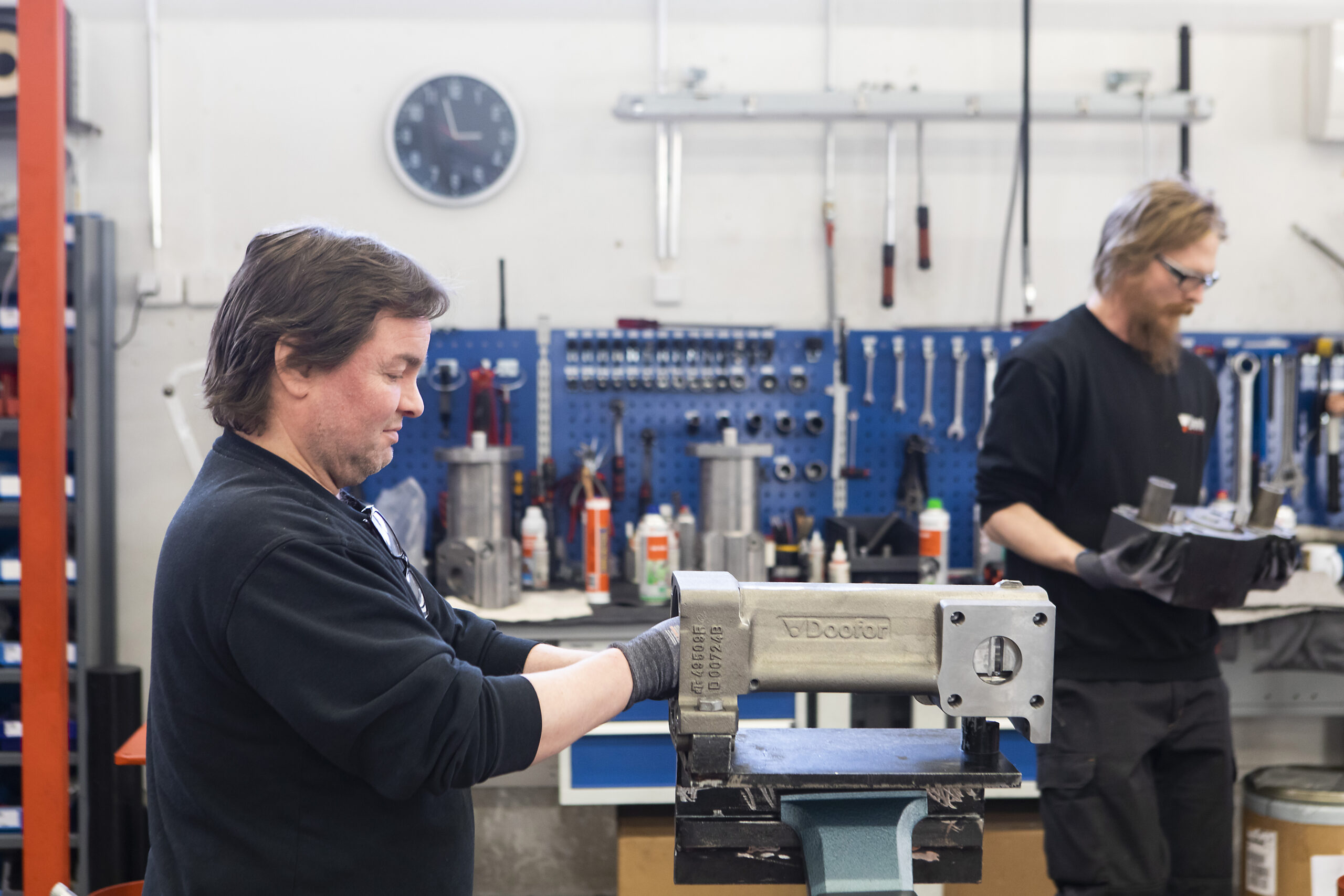 In addition, to take on the Nordic manufacturing industry's commitment to accuracy, Doofor's engineering team uses rigorous testing procedures to continuously measure and evaluate all rock drill products in order to ensure a high degree of reliability and efficiency, even in the most demanding environments.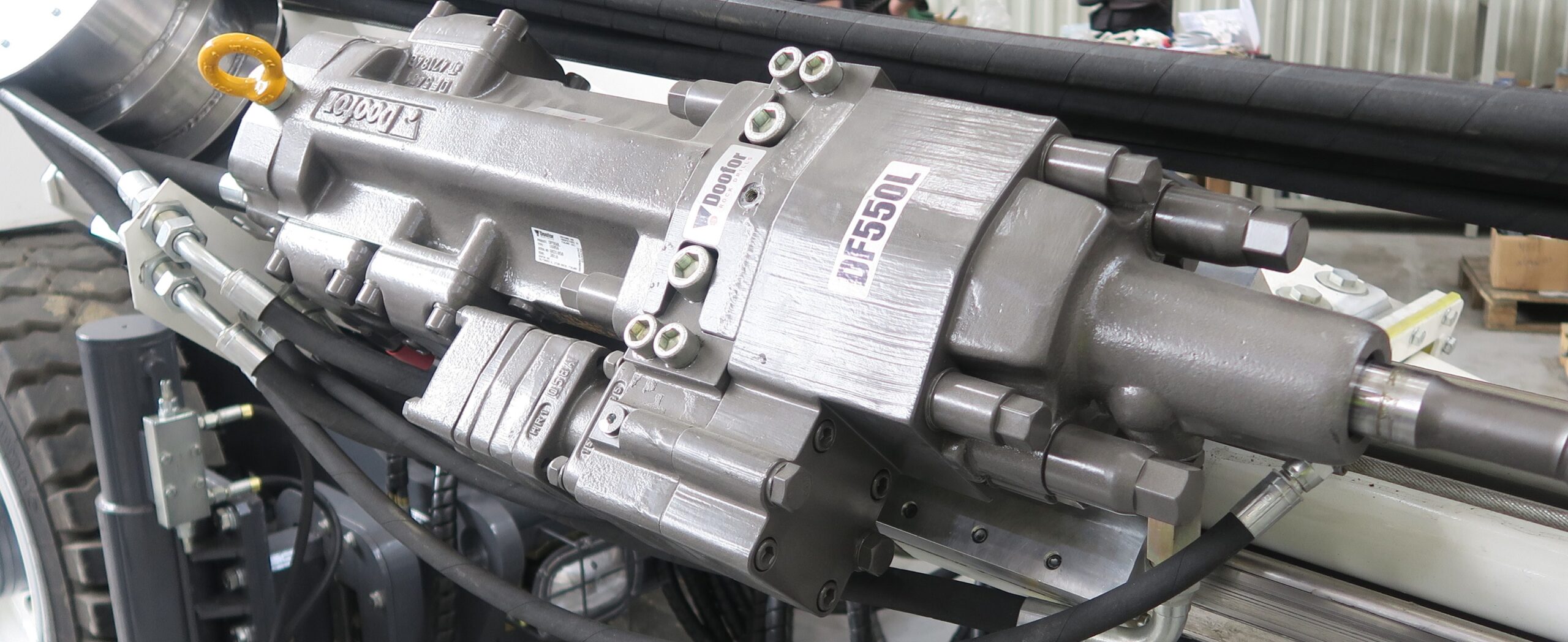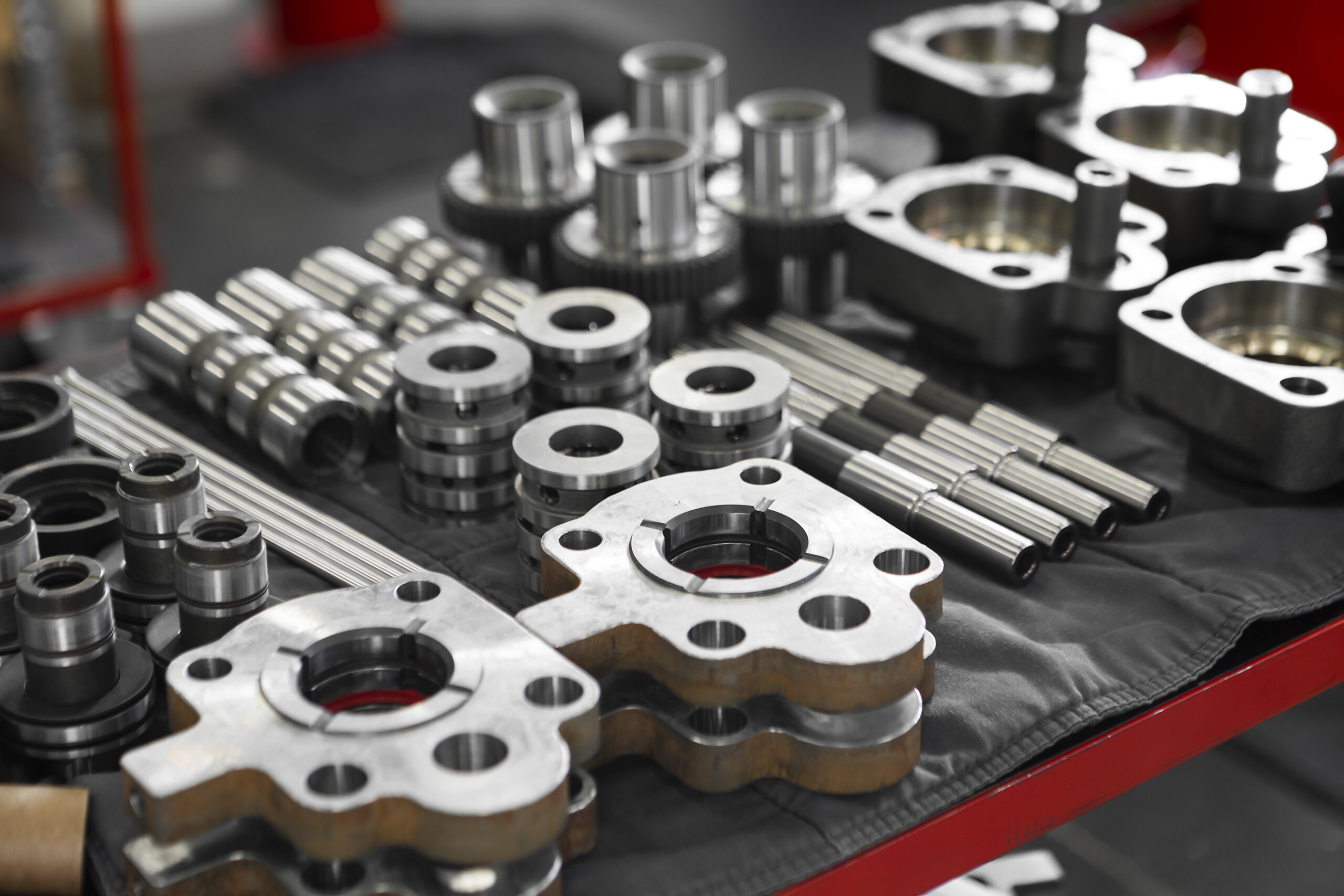 The DF rock drill series are characterized by their compact and robust design, which in turn, not only increases durability, but also allows easy installation and customization. Doofor understands the importance of uninterrupted operation, this is why the DF series feature a modular construction that allows easy interchangeability and serviceability of parts.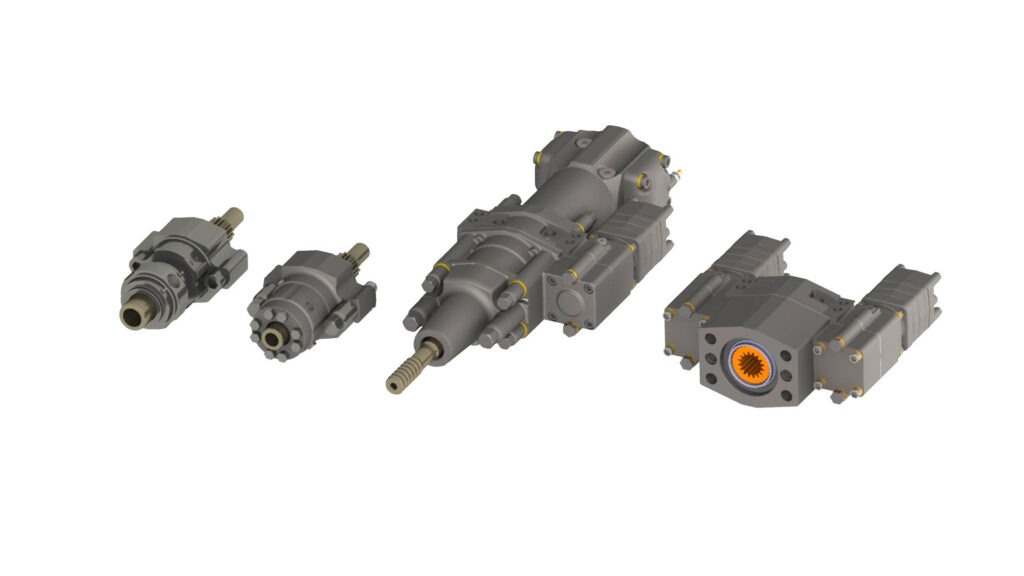 As a customization option, Doofor offers dual rotary motor installation for more performance with higher levels of torque. Doofor also offers a number of front-end module options to suit a variety of tasks, such as extension rod drilling with EXT, bolting and grouting with BLT, and advanced grouting with BLTF. For example, Doofor DF540L model can alternate between EXT, BLT and BLTF options at any point-, providing flexibility and on-the-go modification.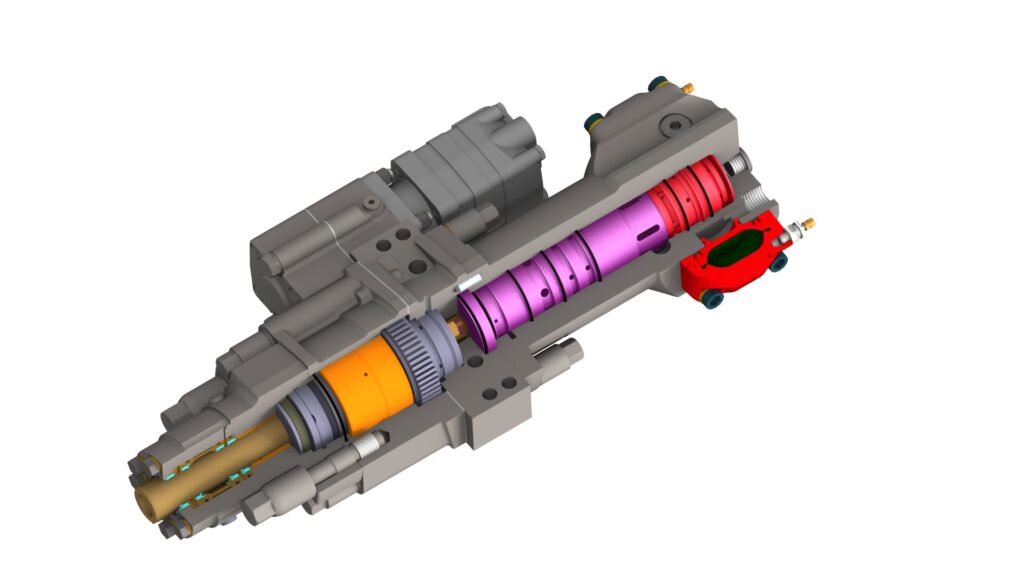 The DF series feature fast-flow accumulator and distributor valve systems which promote effective oil-flow. This, in turn, minimizes energy loss and ensures consistent penetration with zero interruptions.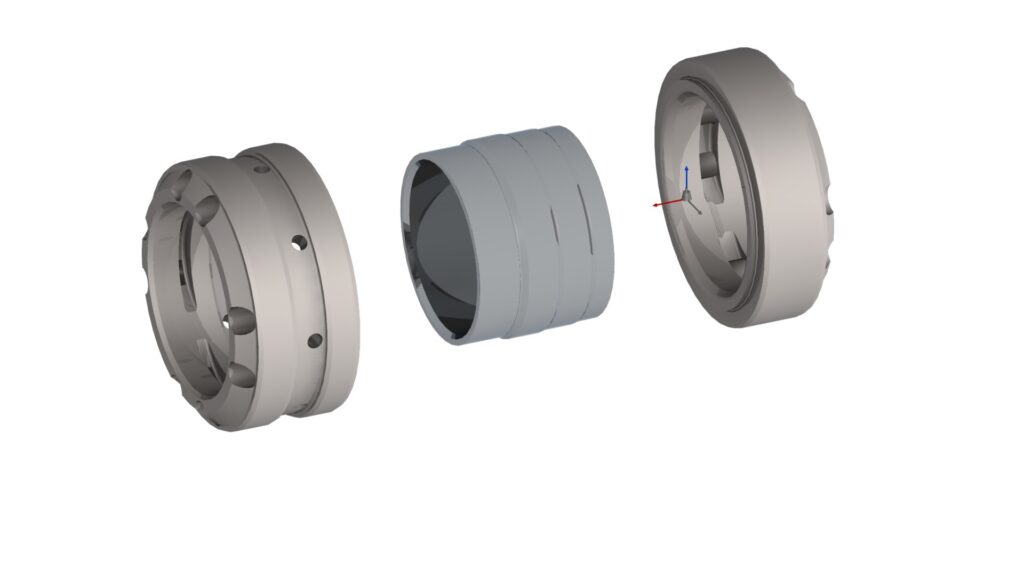 Original trapezoidal piston design significantly improves the transfer of the blow impulse directly to the drill bit. Resulting in more stabilized and precise drilling at the striking point with minimal wear to parts due to effective energy transfer.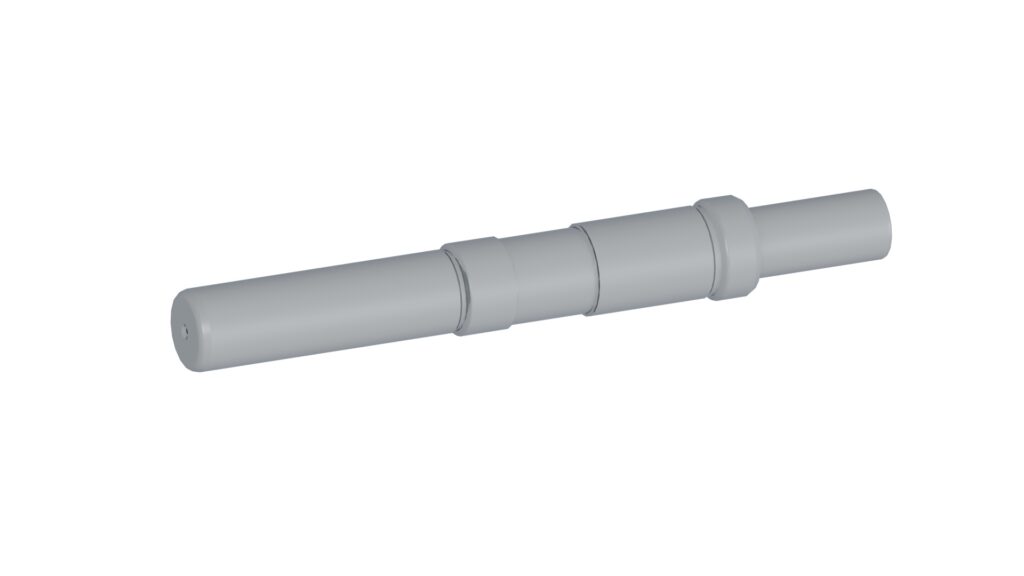 A diverse team behind the innovative design
The theme for this year's WIDD was "Design Diversity", and over the past 25 years, Doofor has successfully engaged in innovative product design and research and development. A prerequisite for building a solid product range, a positive company reputation and a good brand image is having a committed team of people. The Doofor team consists of plenty of international talent and longstanding industry professionals. A multicultural workplace promotes active communication and exchange of ideas. Strong multilingual capacity enables feasible interaction between Doofor and its customers, suppliers and partners around the globe.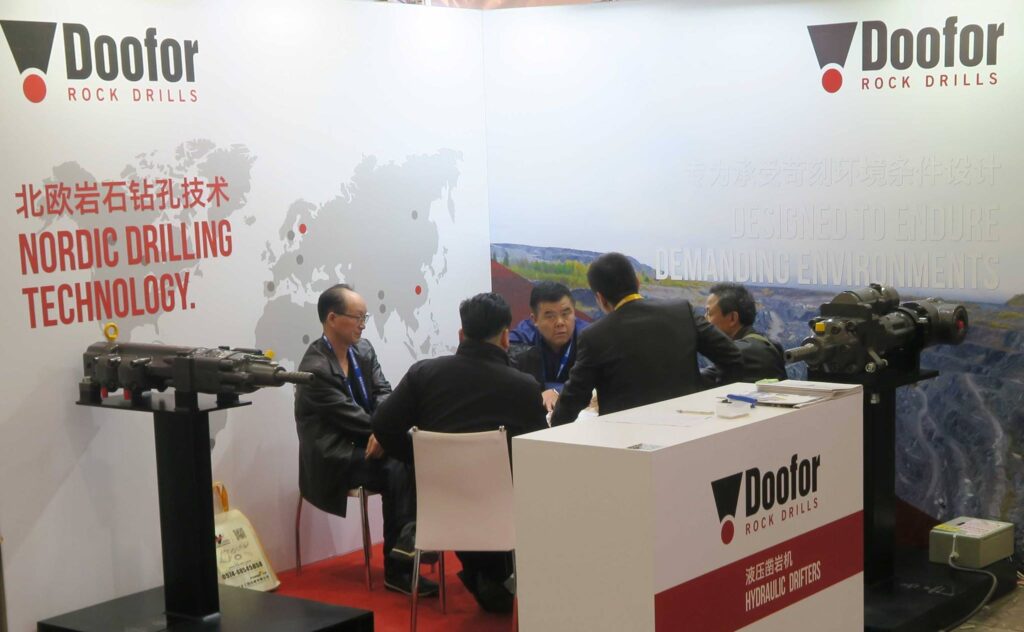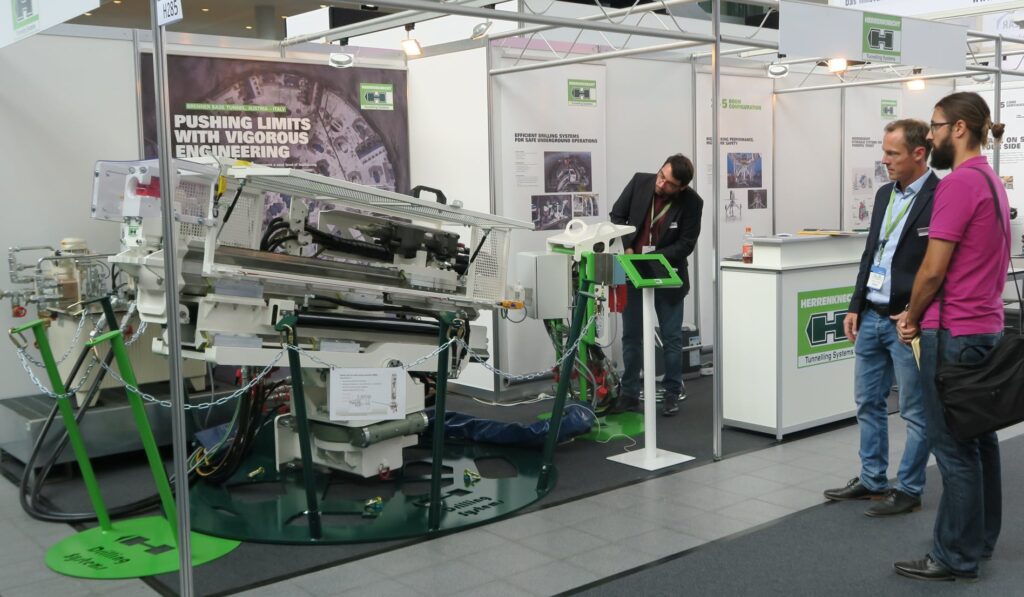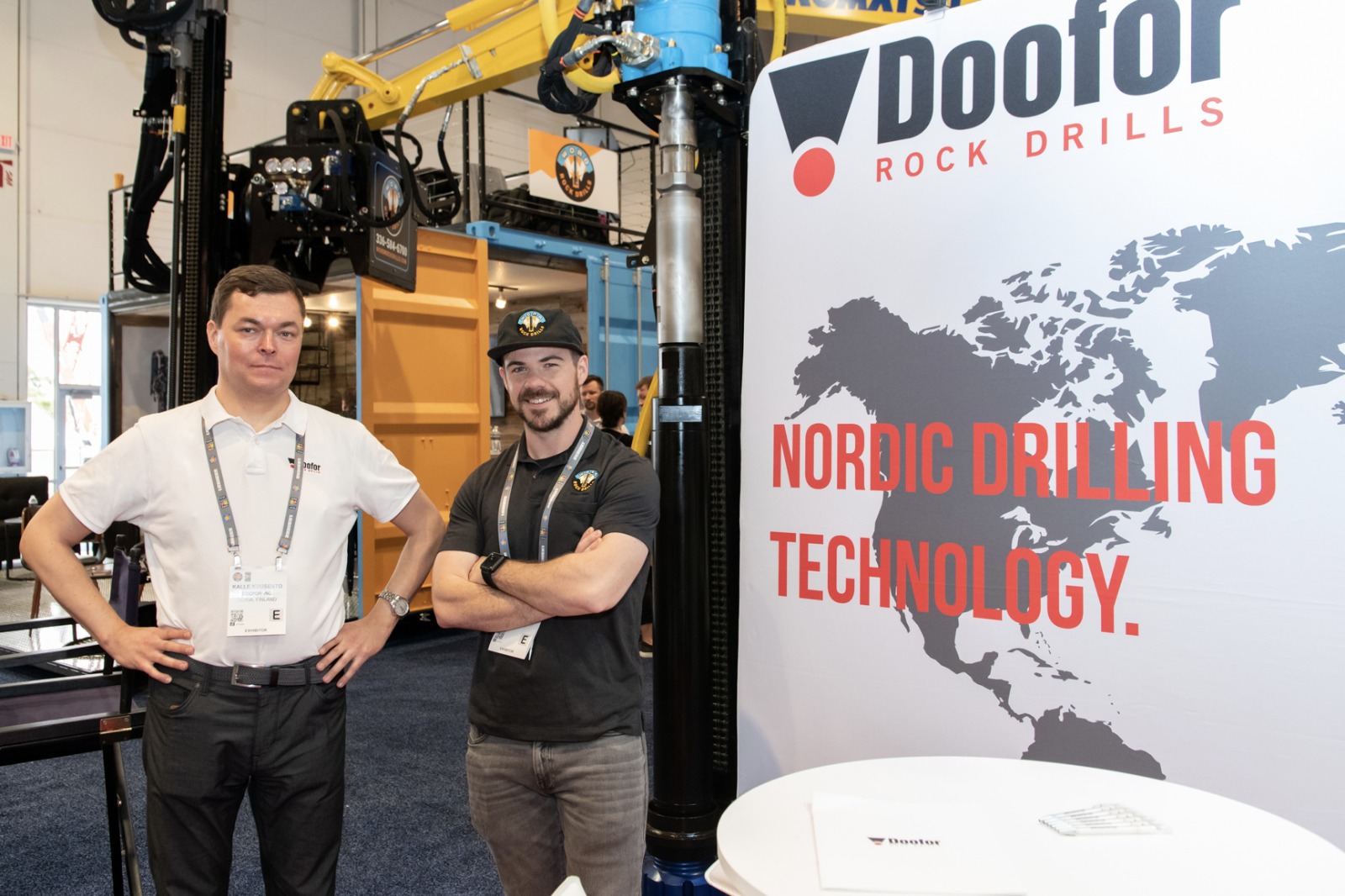 Doofor Inc. looks forward to continuing its international efforts by actively listening to customer needs and closely following industry and technological trends.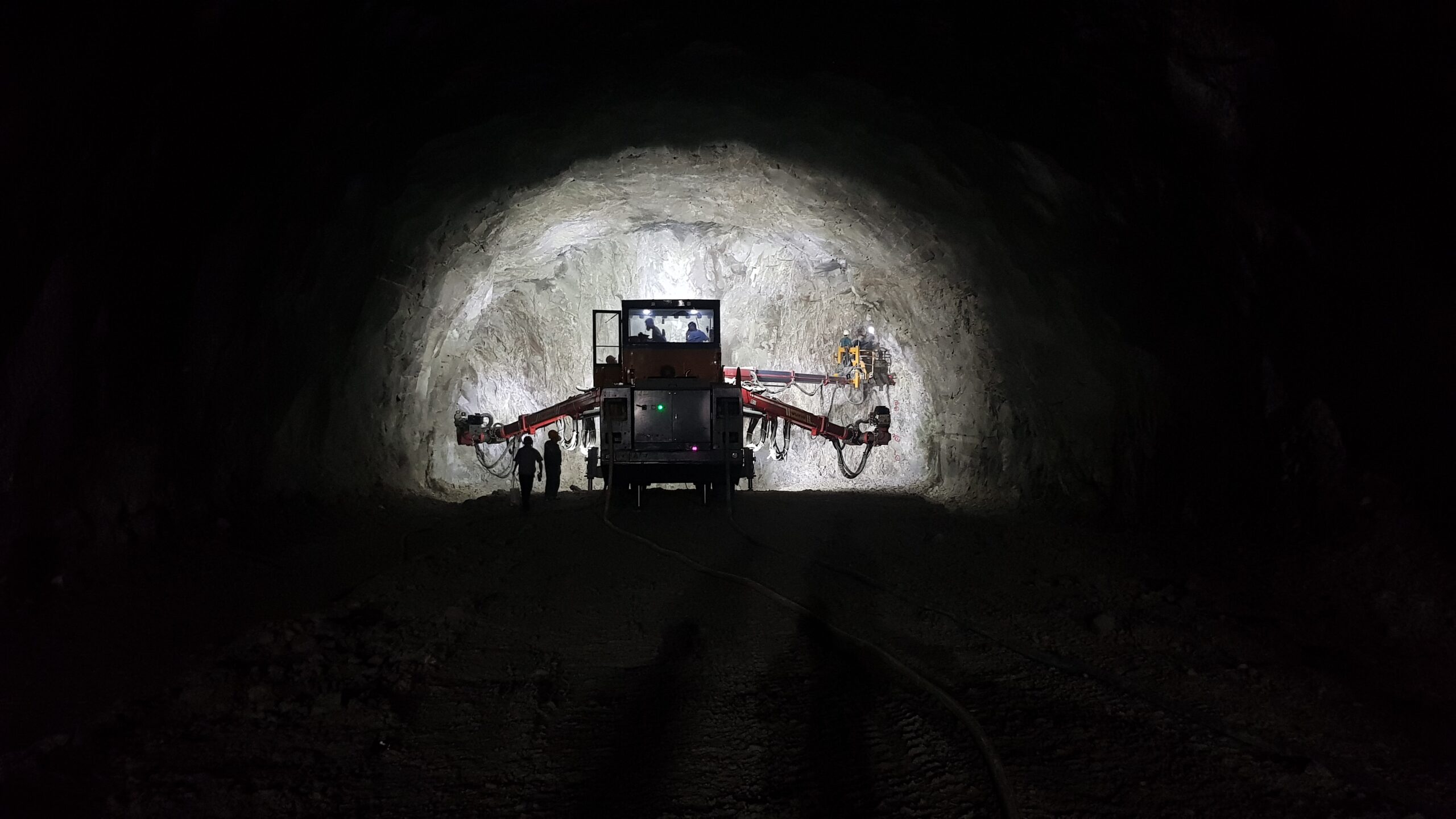 Thank you for reading!
Written by Jaycee Lui-Conckova
Translated and edited by Daniil Victorian